Residential & commerical
Maulsby Roofing can accomodate both residential and commerical flat roofs.
Modified Bitumen
Modified Bitumen is a roofing membrane consisting of asphalt and plastic or rubber polymers, and is therefore widely considered an evolution of asphalt built up roofing.
The toughest flat roof available.
Rubber
Rubber roof repair is a specialty at Maulsby Roofing.
Extended life can be given to rubber roofs by repairing the flashings and seams. Shrinkage problems encountered in some aging rubber roof systems can be alleviated by replacing outer areas of the roof. We can also install new rubber roof systems to the customer's satisfaction.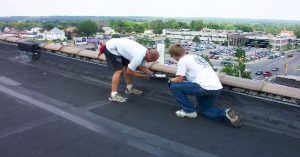 TPO
TPO, Thermoplastic Polyolefin, is a reinforced rubberized membrane which is highly durable. The seams are heat welded and the surface is white for heat reflectivity. TPO is highly resistant to tears and punctures with a good flexibility to allow for building movement.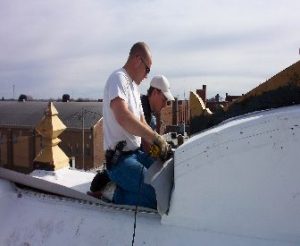 Here are some of the features of TPO:
Strength and durability
Resistant to U.V.
Flexible at low temperatures
Fire resistance
Tear/puncture resistant
Resistance to weathering and shrinkage